Mopar® Tire Center in Wichita Falls, TX
Think about how tires are the only contact point between vehicles and the road. With OEM tires and routine maintenance, Chrysler, Dodge, Jeep®, and RAM models provide the most comfortable and safe driving experience. Achieve the ideal driving experience with top-quality OEM tires maintained at our Mopar® tire center. Our tire center's mission is to provide local CDJR drivers with a comprehensive tire maintenance menu. We employ certified technicians who become tire service specialists through extensive experience. We precisely restore specifications in a state-of-the-art facility equipped with a digital wheel balancer and a computerized wheel aligner. Contact us for your vehicle's tire-related needs at Foundation CDJR of Wichita Falls, near Lakeside City, Dean, Jolly, Pleasant Valley, and Sheppard AFB, TX.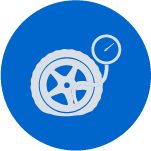 Tire Inspection
Inspections evaluate tire conditions while checking for trouble signs that demonstrate performance, comfort, or safety are at risk. A certified technician with tire maintenance expertise evaluates treadwear patterns, checks sidewall/valve stem integrity, measures the treads' depth, and adjusts inflation pressures if not at specifications. Stop by the Mopar® Express Lane for a tire inspection.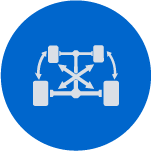 Tire Rotation
Rotate tires every 10,000 miles to expose the set to equivalent long-term handling. Tire rotation promotes even treadwear, smooth handling, riding comfort, and longevity.
Learn More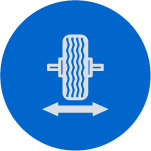 Tire Balance
The wheel-tire assemblies spin quickly and cause vibrations that worsen with speed when not balanced. The vibrations cause faster suspension/steering component deprecation, rapid tire wear, and uncomfortable riding. Our certified technicians restore wheel balance with a digital wheel balancer.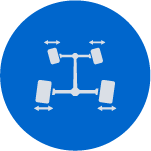 Wheel Alignment
Wheel alignment every twelve months promotes driving comfort, safety, and longer-lasting tires. A certified technician uses computerized wheel alignment equipment to restore the wheel angles –called camber, caster, and toe to factor specifications. Our alignment service menu includes both two-wheel and four-wheel alignments.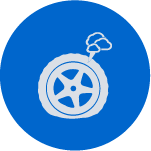 Flat Patching
Repair minor tire punctures measuring no more than ¼ inch on the tread center with flat patching repair service approved by Chrysler, Dodge, Jeep, RAM, and the U.S. Tire Manufacturers.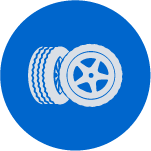 Tire Sales
When your vehicle needs new tires, our tire store has exactly what you need: a selection of high-quality tires that are manufacturer-approved and designed to provide comfort, safety, and long-lasting performance.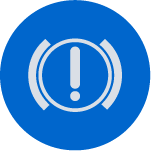 Tire Pressure Monitoring System (TPMS) Repair
The Tire Pressure Monitoring System (TPMS) keeps tabs on your tires to ensure that they are all properly inflated, and we can help you deal with any TPMS problems by performing service on the system.
Schedule Tire Service at Foundation Chrysler Dodge Jeep RAM of Wichita Falls
We offer tire inspection, rotation, and flat patching without appointments at the Mopar® Express Lane. Customers who prefer appointments or need non-express tire maintenance can schedule service appointments online or by phone.