Chrysler Dodge Jeep® RAM Battery Service in Wichita Falls, TX
Chrysler, Dodge, Jeep, and RAM models rely on the battery to start the engine and provide power to other electronic accessories. Batteries have a limited life and require maintenance to support reliability. Local drivers choose us for comprehensive battery maintenance by certified technicians. Need a new battery? Rest assured that we stock the on-site parts department with the OEM battery recommended for your model. Need prompt battery maintenance without an appointment? We welcome you to stop by the Mopar® Express Lane for comprehensive battery maintenance for service without an appointment. Check the limited-time specials page for a coupon that reduces battery replacement cost while extending maximum service value. Contact us today for battery maintenance at Foundation CDJR of Wichita Falls, near Pleasant Valley, Lakeside City, Dean, Jolly, and Sheppard AFB, TX.
Automotive Batteries and Maintenance
Batteries have a critical role in engine starting and electronics powering when the engine is not running. Batteries last for several years in ideal circumstances, but leading battery manufacturers understand through extensive research and development that car batteries operating in extreme heat live shorter lives. Batteries in Texas' heat succumb to performance decline operating in scorching heat and require inspections with testing to provide replacement before it fails and immobilizes your vehicle.
Battery Services:
Battery Inspection with Testing - Knowing when an old battery requires replacement begins with regular inspections with testing, including a physical integrity assessment plus a voltage test to confirm reliable performance at factory specifications—the inspection checks for overly risky case deformities, post-terminal corrosion, and leaking fluid. Battery voltage testing involves a certified technician using a voltmeter to measure the reserve capacity and cold-cranking amps. Batteries in poor physical condition or failed the voltage test should receive replacement service without delay.
Battery Replacement - Battery replacement is a quick and convenient service at the Mopar® Express Lane without appointments. A certified technician opens the engine compartment to access the battery housing/tray. We detach the battery from the charging system's terminal, remove debris from the housing/tray, and install a genuine OEM battery to specifications with a solid connection to the terminal for reliable performance.

 

Learn More
Battery Terminal Cleaning - The battery terminals can sustain a buildup of corrosion that makes the connections looser; we can clean the terminals and tighten the cables.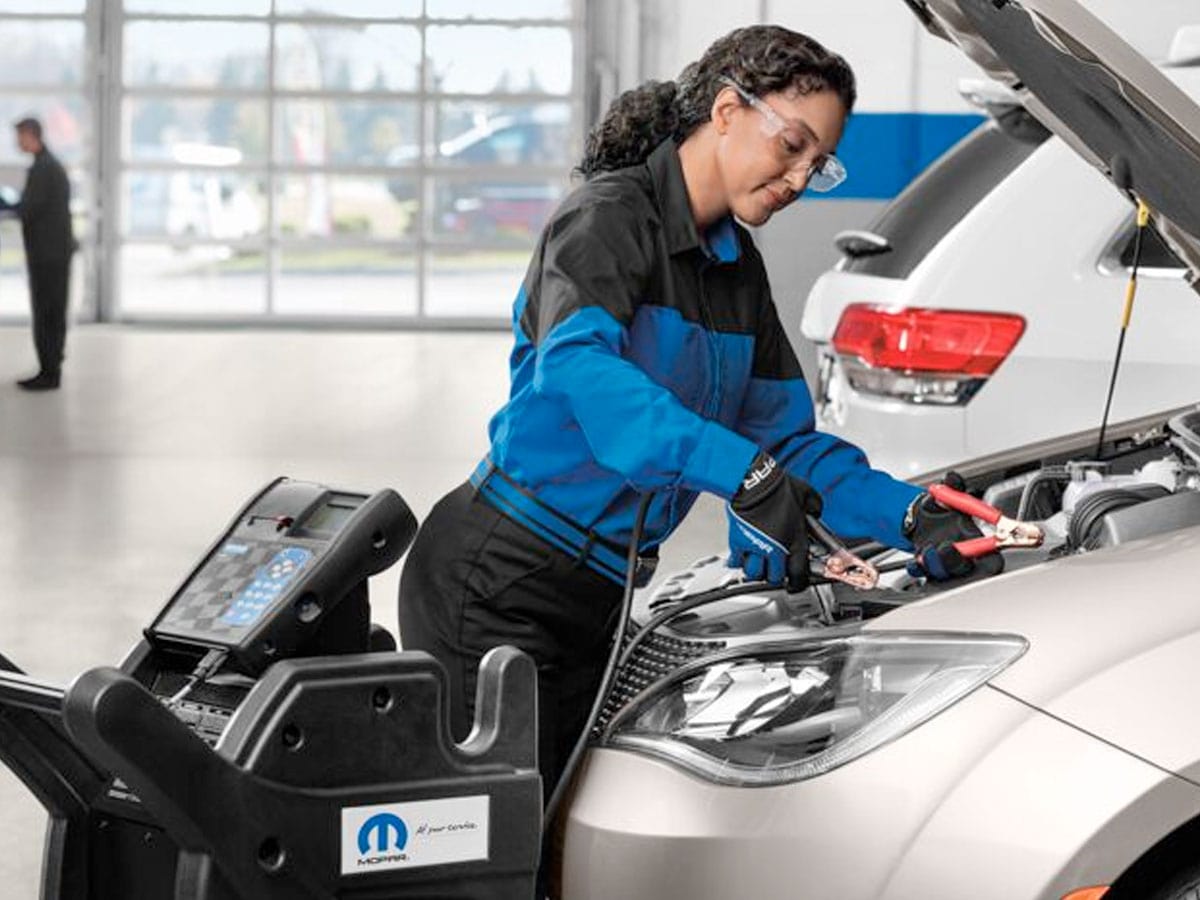 New Battery Sales
We stock the on-site parts department with the OEM batteries recommended for Chrysler, Dodge, Jeep, and RAM models. Order parts by submitting the request form or call the parts department during open hours to order with our knowledgeable parts advisor.
Schedule Battery Service at Foundation CDJR of Wichita Falls
Customers can get comprehensive battery maintenance by appointment or without. Many customers visit the Mopar® Express Lane for service without appointments. Customers preferring appointments can schedule service online or by phone.